Latest News
News Releases from the Archdiocese
Publish date: February 1, 2023
News from CatholicPhilly.com
Archbishop Pérez recently shared a special message on social media wishing everyone a Happy Catholic Schools Week 2023.

Schools throughout the Archdiocese of Philadelphia are celebrating Catholic Schools Week 2023. This year's theme is "Catholic Schools: Faith. Excellence. Service."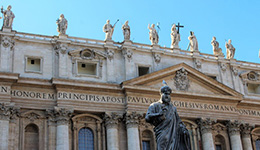 The Holy See
The official website of the Holy See is available in six languages. This website is updated regularly with news about Pope Francis, the Vatican, and issues facing the Church and the World.