Deacon Ryan Nguyen to be Ordained to the Priesthood by Most Reverend Nelson J. Pérez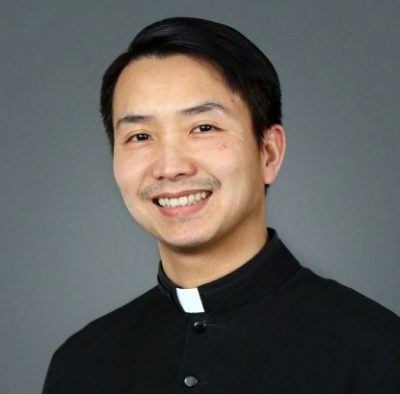 The Ordination Mass will be streamed live at archphila.org and broadcast via  Facebook Live at
facebook.com/ArchbishopPerez/ and facebook.com/StCharlesSem/
Deacon Ryan Nguyen, 40,  son of Mr. Huan Le Nguyen and Mrs. Bich Thi Do, will be ordained to the Priesthood by Most Reverend Nelson J. Pérez, Archbishop of Philadelphia.
Saturday, May 21, 2022
10:00 a.m.
Cathedral Basilica of Saints Peter and Paul
18th Street and Benjamin Franklin Parkway
Philadelphia, PA 19103
A native of Vietnam, Deacon Nguyen has been serving as a transitional deacon at Saint Bede the Venerable Catholic Church (Bucks County) for the past year in final preparation for Ordination to the Priesthood. He attended John Bartram High School in Philadelphia. He earned a pharmacy degree from the University of Sciences in Philadelphia (2007). He earned his Bachelor of Arts and Master of Divinity (2021) and his Master of Arts (2022) Degrees from Saint Charles Borromeo Seminary, Wynnewood.
Father Nguyen will celebrate his First Solemn Mass of Thanksgiving on
Sunday, May 22, 2022
2:00 p.m.
Saint Martin of Tours
5450 Roosevelt Boulevard
Philadelphia, PA 19124
CatholicPhilly.com recently published a profile on Deacon Nguyen's journey to the priesthood. To read his profile, "Visit to 'saint of the impossible' laid his path to priesthood," please click here.
There are six men from the Archdiocese of Philadelphia in the Ordination Class of 2022. Following the conclusion of Mass with the Rite of Ordination, they will be assigned to an Archdiocesan parish where they will serve as parochial vicars. A parochial vicar is a priest appointed by the Archbishop to assist the pastor of a parish.
# # #
Editor's Note: A photograph of Deacon Ryan Nguyen is attached for publication purposes with credit to the Archdiocese of Philadelphia.
For information about the Mass with the Rite of Ordination scheduled for Saturday, May 21, 2022, please click here.
Founded in 1832, Saint Charles Borromeo Seminary has been forming men for priestly service in the Catholic Church for 190 years. For more information on Saint Charles Borromeo Seminary, please call 610-667-3394 or visit www.scs.edu.
---

 Archdiocese of Philadelphia


 ArchPhilly


 ArchPhilly
Contact:
Jhoselyn Martinez
Communications Specialist
215-587-3747 (office)