Missionaries of Mercy
In his Apostolic letter Misericordia et misera, Pope Francis extended the faculties of the specially-appointed priests, known as Missionaries of Mercy, beyond the Jubilee Year of Mercy  as "a concrete sign that the grace of the Jubilee remains alive and effective the world over" (MM 9).  
The Missionaries of Mercy have been commissioned by the Holy Father to "hear confessions, and preach on behalf of and promote the Sacrament of Reconciliation." In addition, they have the authority, granted by the Holy Father, to pardon these sins reserved to the Holy See:
Profaning the Eucharistic species by taking them away or keeping them for a sacrilegious purpose;
Use of physical force against the Roman Pontiff;
Absolution of an accomplice in a sin against the Sixth Commandment of the Decalogue;
A direct violation against the sacramental seal by a confessor.
The recording by means of a technical device of what the priest or the penitent says in a Sacramental Confession (whether real or simulated), or the divulgation of such a recording through the means of social communication.
Click here for the National website for the Missionaries of Mercy in the USA
"They will be missionaries of mercy because they will be facilitators of a truly human encounter, a source of liberation, rich with responsibility for overcoming obstacles and taking up the new life of baptism again. They will be led in their mission by the words of the apostle, 'For God has consigned all to disobedience, that he may have mercy upon all' (Romans 11: 32)."   ~Pope Francis
Our Archdiocese of Philadelphia Missionary of Mercy
The Archdiocese of Philadelphia rejoices to have one of her own priests appointed to this ministry: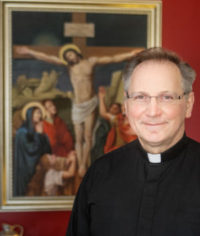 Rev. Msgr. George A. Majoros, Pastor
Contact information for Msgr. Majoros
Msgr. Majoros will hear confessions on the first Sunday of each month at 5:30pm at the Cathedral Basilica of Saints Peter and Paul in Philadelphia.
---
Monsignor Majoros is willing, schedule permitting, to help in any way to facilitate your specific pastoral initiatives focusing on conversion and divine mercy, with a particular attention given to the Sacrament of Reconciliation.  These include:
Days of Recollection for parishes and organizations on the following topics
Celebrating Mercy in the Liturgical Year
Confession: The Sacrament of Mercy
The Parables of Mercy
The Psalms of Mercy
The Saints of Mercy
Mercy in the Fathers of the Church
Mercy in the Teachings of the Popes
The Corporal and Spiritual Works of Mercy
Parish Missions:  A three day mission preaching and celebrating Divine Mercy (Advent and Lent)
Parent Talks on Reconciliation and the Holy Eucharist
Penance Services (Advent and Lent)
In addition, the Missionary of Mercy is available to meet individuals who have special needs or concerns.
Contact information for Msgr. Majoros