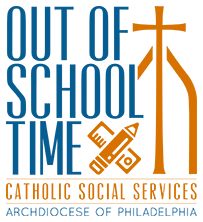 Catholic Social Services' Out-Of-School Time Programs (OST), a ministry of the Archdiocese of Philadelphia, will celebrate the summer with a day of fun at its 9th annual Out-Of-School Time picnic. Nearly 550 children and youth from OST programs located throughout the City of Philadelphia will attend.
Friday, July 19, 2019
10:00 a.m. – 2:00 p.m.
Neshaminy Shore Picnic Park
13 Beaver Street
Hulmeville, PA 19047
Festivities at this year's picnic will include entertainment, sports, games, rock climbing, swimming, face painting, miniature golf, and more. In addition, those attending have the opportunity to enjoy the park's ample green space and recreational offerings.
For more than 20 years, CSS has served at-risk children and youth in grades K-12 through its OST programs. During the school year, the programs provide safe, challenging, and engaging learning experiences that help children develop the social, emotional, physical, and academic skills vital to future educational achievement.
Throughout the summer months, OST programs support working families by offering places for their children to participate in recreational activities and academic reinforcement programs to help them avoid summer learning loss. Students participate in a variety of programming including dance, culinary arts, sewing classes, STEM education and more.
CSS' OST Programs are a beneficiary of the Archbishop's Benefit for Children (ABC), a year-round fundraising effort that provides necessary support to help ensure the vitality of CSS' youth programs for children, adults and families of all faiths throughout the five-county metropolitan area comprising the Archdiocese of Philadelphia. These programs provide help and create hope for over 16,000 children each year, including children of veteran households and immigrant families.
# # #
Editor's Note: CSS OST Programs are devoted to building stronger communities throughout the City of Philadelphia. To learn more, please visit http://cssoutofschooltime.org/.
To donate or for more information about the Archbishop's Benefit for Children, please visit https://archbishopsbenefitforchildren.org/