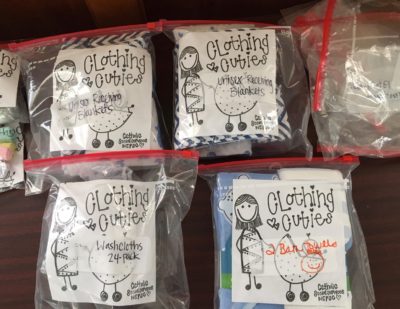 Families with infants and children living in Northeast Philadelphia are receiving ongoing assistance in the face of the Coronavirus (COVID-19) pandemic thanks to an initiative newly launched at the Northeast Family Service Center (NEFSC), a ministry of Catholic Social Services of the Archdiocese of Philadelphia (CSS).
This program, affectionately called "Clothing Cuties," aims to assist families experiencing financial hardship as a result of the pandemic by providing essential infant and children's clothing. This relief effort is especially critical during these challenging times.
Parents and guardians impacted by the virus recently voiced concerns to NEFSC staff that their children were growing out of their clothes and that they were unable to purchase new ones as a result of financial hardship and the ongoing closure of retail stores.
Ms. Allison Kane, Parent Educator at NEFSC said, "The team at Catholic Social Services' Northeast Family Service Center has united together and have begun distributing the items to families in need and plans to do so for a long time. To date, 585 items have been prepared for the families to utilize. The present goal is to reach 1,000 items to be able to give to our families."
Those interested in supporting the NEFSC and helping our neighbors in need can donate newborn – 4T clothing items directly to the Family Service Center. Please contact the NEFSC at 215-624-5920 for additional information and drop-off times.
# # #
Editor's Note: Catholic Social Services (CSS) of the Archdiocese of Philadelphia offers community-based and residential programs and services to support men, women and children in need as an expression of the charitable works of our local Church throughout the Greater Philadelphia area. To learn more about CSS programs that serve a wide variety of human needs, please visit  http://cssphiladelphia.org/.