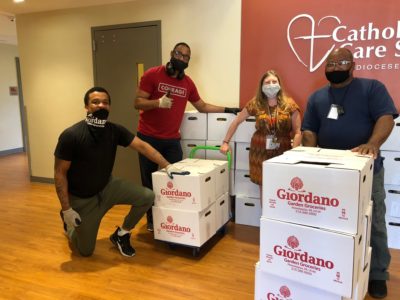 Seniors across the Philadelphia area who benefit from programs and services operated by Catholic Housing and Community Services of the Archdiocese of Philadelphia (CHCS) and in need of healthy sustenance in the face of the Coronavirus (COVID-19) pandemic recently received a boost thanks to a partnership between CHCS and Giordano Garden Groceries.
CHCS has provided nearly 187 care packages of fresh food items to residents of its four affordable senior housing communities as well as 65 clients of its In-Home Support Program. Each "Fresh Essentials" box distributed includes a variety of nourishing fruits, vegetables, and dairy. In addition to this relief effort, Giordano's Garden Groceries has been making deliveries on behalf of CHCS to older adults who have a financial need and no resource to provide shopping assistance during this time. 
Funding for this critical outreach was made possible through The W. W. Smith Charitable Trust and the In-Home Support Program's discretionary funds.  The In-Home Support Program is funded through the Philadelphia Corporation for Aging, Philadelphia's nonprofit Area Agency on Aging that contracts with more than 200 organizations to deliver services to older adults and adults with disabilities.
Ms. Heather Huot, Director of CHCS said, "During this challenging time, when our older adults are incredibly vulnerable, it is critical to meet their nutritional needs. CHCS has been committed to getting healthy food to our residents and clients throughout the pandemic and this collaborative effort is a prime example of community resources coming together to make a tangible impact."
Since the onset of the pandemic, CHCS has been committed to supporting the needs of older adults throughout the Greater Philadelphia region with modes of support including food and food related resources, as well as rent, mortgage, utility bill assistance, and emotional support. CHCS continues to operate "grab-and-go" food distribution sites at its four senior centers for Philadelphia residents aged 60 and up. Seniors can each receive seven frozen meals per week. Since mid-March, CHCS has served nearly 17,500 meals through its senior centers.
# # #
Editor's Note: Catholic Housing and Community Services of the Archdiocese of Philadelphia (CHCS) is a leading provider of senior living services throughout the Philadelphia region. Dedicated staff are committed to providing the best quality support for seniors and their loved ones through senior programs. Programs include senior housing, senior centers, older adult care management, in-home support programs, elder care helpline, and senior clubs. To learn more about Catholic Housing and Community Services please visit http://chcsphiladelphia.org/.