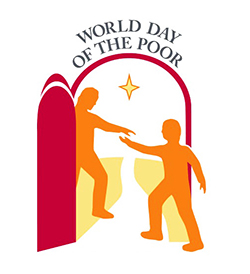 The prayer service will take place in front of the Homeless Jesus statue, which represents the presence of Christ among the most marginalized and vulnerable members of society.
Saint John's Hospice (SJH), a ministry of Catholic Social Services of the Archdiocese of Philadelphia (CSS), will mark the 3rd Annual World Day of the Poor with a prayer service in front of its Homeless Jesus statue and service of an evening meal for men experiencing homelessness.
Most Reverend Edward M. Deliman, Auxiliary Bishop of Philadelphia, will preside over the prayer service. In addition, the Good Shepherd Singers, a choral group consisting of current and former residents of the Good Shepherd Program, a residential program offering housing and social services to medically fragile men experiencing homelessness, will perform.
Monday, November 18, 2019
4:40 p.m.
Saint John's Hospice
1221 Race Street
Philadelphia, PA 19107
The life-size bronze Homeless Jesus statue was installed at SJH in 2017 and is the first of its kind in Pennsylvania. Sculpted by Canadian artist Mr. Timothy P. Schmalz and commissioned by The George C. Beyer Family, it has been installed in more than 50 cities worldwide, with the most prominent location being in front of the Papal Office of Charities at the Vatican.  It depicts the Savior, shrouded in a blanket with His face covered, lying on a park bench. Wounds from the crucifixion are visible on the statue's bare feet. The statue measures 3 feet high, 2 feet deep and 7 feet long.
Since 2017, the Catholic Church has celebrated World Day of the Poor as an occasion to reflect on how poverty is at the heart of the Gospel. This year, Pope Francis reflects on Psalm 9:19, "The hope of the poor will not perish forever" to emphasize that those who experience poverty maintain hope in the Lord because He assures them of his faithfulness.
# # #
Editor's Note: For over 55 years, SJH has provided provide crucial, life-sustaining services with dignity, respect and compassion to men experiencing homelessness in Philadelphia. Each weekday, Saint John's provides more than 300 hot meals, as well as case management, on-site nursing, daily showers, and a mailroom for over 1,300 men. Each year, it provides residential services for over 250 men transitioning from homelessness to independent living in the community. For more information, please visit http://saintjohnshospice.org/.
Contact:
Courtney N. Flach
Media and Events Specialist
215-587-3747 (office)