Saint Charles Borromeo Seminary today announced the launch of the Institute for Christian Formation with classes beginning in January 2021. The Institute offers a dynamic, new program of spiritual formation and development for men and women in a non-degree/non-credit format.
Through small, interactive sessions over the course of eight evenings participants will gain a deeper understanding of their faith. Each will be led by acclaimed Saint Charles Borromeo faculty as well as other vibrant and dynamic presenters.  The goal of the program is to deepen each participant's relationship with Jesus Christ. It will also inspire them to become living examples of the power of that relationship in their families and communities. As of the date of this release, a diverse group of over 40 presenters – priests, religious sisters, and lay men and women — had already responded enthusiastically when invited.
"Through this initiative, Saint Charles is expanding our mission by providing another opportunity for more of our faithful to deepen their knowledge of the great gift of our faith," said Bishop Timothy C. Senior, Rector of Saint Charles Borromeo Seminary. "This new program is open to men and women, lay and religious who are curious to learn more about the underpinnings of their Catholic Faith."  Pope Francis has outlined in his encyclical Lumen Fidei the necessity of teaching the Faith so that all may understand and grow in Christ: "The Church never takes faith for granted, but knows that this gift of God needs to be nourished and reinforced so it can continue to guide her pilgrim way," he wrote. Bishop Senior said: "The Holy Father's words apply not just to our Seminarians but to all of the faithful. The Institute is another way the Seminary can fulfill our mission of spreading the Word throughout our families, parishes and communities."
Meeting always on Thursday evenings but not every week, the Institute aims for a pace that is hoped to be manageable for most.  On any given Thursday evening, participants will be introduced to two topics in a thought-provoking, interactive format. Some example topics include: Sacred Scripture, What is Faith?, Divine Revelation, Who is Jesus Christ? and many more. Participants who complete all sessions will receive a certificate of completion from The School of Theological Studies at Saint Charles Borromeo Seminary. The cost for any single eight-week season is $250. The Institute will be open to new participants each January.
The Institute is overseen by the Dean of the School of Theological Studies, Reverend Monsignor Michael K. Magee, S.T.D., S.S.L., M.A., M.Div. He stated, "Through this new Institute, the Seminary is extending its mission to a new segment of the faithful of the Archdiocese, namely those adults who do not wish or need to pursue a theology degree, but who nevertheless do want to deepen their knowledge of the Catholic Faith and their love of Jesus Christ in the company of like-minded believers." The program is not intended to replace any programs that take place on the parish level; indeed, it may assist pastors by supplying them with parishioners who are well-grounded in their own faith and able to help in sharing that faith with others.
The Institute's course offerings will initially be limited to English with exploration underway to provide future offerings in other languages.
Registration is now open. Interested parties can learn more on the Institute's website or register at www.scs.edu/ICF.   
###
About Saint Charles Borromeo Seminary
Founded in 1832, Saint Charles Borromeo Seminary has been forming men for priestly service in the Catholic Church for more than 180 years. In August 2020, the seminary reported an overall enrollment of 154 seminarians.  Saint Charles' seminarian population is becoming increasingly diverse with approximately 48% of its new students now coming from Asian, Latino, or African countries or nationalities. Of the 25 new seminarians, six are seminarians studying for the Archdiocese of Philadelphia, and there are 75 new or returning seminarians for the Archdiocese of Philadelphia studying at St. Charles. With the generosity of many, these young seminarians are able to successfully transform into the compassionate and loyal priests and inspiring leaders of tomorrow's Church. For more information on Saint Charles Borromeo Seminary, please call 610-667-3394 or visit www.scs.edu.  
Editor's Note:
The attached photo includes members of the Executive Committee for the Institute for Christian Formation.
Reverend Monsignor Michael Magee, Dean, School of Theological Studies, Saint Charles Borromeo Seminary
Reverend Dennis Gill, Director, Office for Divine Worship, Archdiocese of Philadelphia
Meghan Cokeley, Director, Office for the New Evangelization, Archdiocese of Philadelphia
Ann Menna, Deputy Secretary of Catechetical Formation, Archdiocese of Philadelphia (not pictured)
Suzanne Mulrain, Coordinator, School of Theological Studies, St. Charles Borromeo Seminary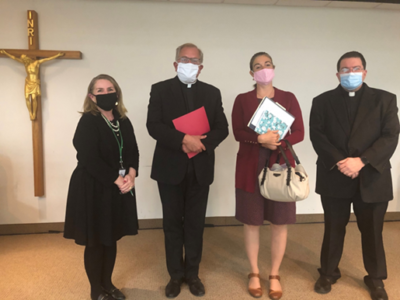 Contact: Kenneth A. Gavin
Chief Communications Officer
215-587-3747 (office)