Award Ceremony Will Be Streamed on April 21 at 6 p.m.
Saint Charles Borromeo Seminary today announced that Gary and Patricia Holloway will be the recipients of the Saint Charles Borromeo Award, given by the Board of Trustees of Saint Charles Borromeo Seminary. The award will be presented in a streamed, virtual ceremony on April 21, 2021.  The event will stream from www.stcharlesborromeoaward.org or @StCharlesSem on Facebook and include remarks by Archbishop Nelson J. Pérez, Archbishop of Philadelphia, Bishop Timothy C. Senior, Rector of Saint Charles Borromeo Seminary, the Holloways and the Co-Chairs of the event, Don and Mary Ann Saleski.
Mr. Holloway is the founder and chief executive officer of GMH Associates, the parent company of GMH Capital Partners, a dynamic real estate company specializing in the acquisition, development, and management of high-quality residential and commercial properties throughout the United States. Mrs. Holloway is chair of the Paoli Memorial Hospital Foundation and a hardworking, dedicated community volunteer. The award recognizes the couple for their ongoing commitment to build a better community throughout the Greater Philadelphia region.
"Gary and Patricia Holloway have shown great commitment to enhancing our community and are outstanding examples of servant leadership," said Saint Charles Borromeo Seminary Rector Bishop Timothy C. Senior. "Like Saint Charles Borromeo, who lived a life of service and humility, the Holloways embody these same qualities in their own lives."
"We are honored to accept the Saint Charles Seminary Award this year," said Mr. and Mrs. Holloway. "Our commitment to the community and Saint Charles Seminary in particular, is unwavering. It is extremely rewarding for us to be able to assist in the formation of the future leaders of our church. We are thankful for this recognition and hope that it brings even more awareness for our excellent seminary in Philadelphia."
The Holloways were a driving force in the creation of the annual Saint Charles Seminary Golf Classic, which was born through their philanthropic leadership and is in its eighth year. With their support and dedication, the Seminary Golf Classic has become the second largest golf outing in the Greater Philadelphia region, generating about $450,000 annually.
Mr. and Mrs. Holloway were named Dame and Knight of the Order of Saint Gregory the Great from Pope Francis in January 2018 – one of the highest honors bestowed by the Pope on lay people.  The Papal Honors were conferred at a ceremony during a Vespers service at the Cathedral Basilica of Saints Peter and Paul in Philadelphia. During the ceremony, the Holloways received engraved medals and a proclamation from Pope Francis.
Together, the Holloways have also been strong supporters of Main Line Health including Paoli Hospital, Bryn Mawr Hospital, Lankenau Hospital, Riddle Hospital and Bryn Mawr Rehab; the Catholic Foundation of Philadelphia; the Archdiocese of Philadelphia; Villanova University; Villa Maria Academy; Malvern Preparatory School; the Augustinian Province of St. Thomas of Villanova; and Amigos de Jesus Orphanage in Honduras and many other charitable endeavors in the region.
Mr. and Mrs. Holloway both earned their undergraduate degrees from Villanova University. Mr. Holloway received his Bachelor of Science in Accounting, and Mrs. Holloway received a Bachelor of Science in Education and a Masters in Counseling and Human Relations.
Mr. and Mrs. Holloway have five children and 17 grandchildren.
###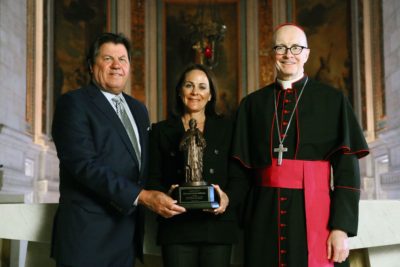 Editor's Note:
Founded in 1832, Saint Charles Borromeo Seminary has been forming men for priestly service in the Catholic Church for more than 180 years.  In August 2020, the seminary reported an overall enrollment of 154 seminarians.  Saint Charles' seminarian population is becoming increasingly diverse with approximately 30% of its students now coming from Asian, Latino, or African countries or nationalities. Of the 25 new seminarians, six are seminarians studying for the Archdiocese of Philadelphia, and there are 75 new or returning seminarians for the Archdiocese of Philadelphia studying at St. Charles. With the generosity of many, these young seminarians are able to successfully transform into the compassionate and loyal priests and inspiring leaders of tomorrow's Church. For more information, visit www.scs.edu and on Facebook, Twitter, Linked In, Instagram and YouTube.
Contact: Kenneth A. Gavin
Chief Communications Officer
215-587-3747 (office)