Online auction will be hosted by Charitybuzz November 29th-December 20th; proceeds will benefit the 2017 Catholic Charities Appeal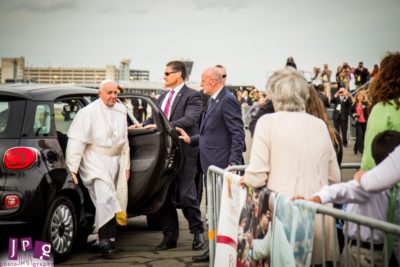 Photograph courtesy of the Archdiocese of Philadelphia/J. DiGidjunis
Today, the Archdiocese of Philadelphia announced that it is auctioning a FIAT 500L used by Pope Francis for transportation during his historic visit to Philadelphia in September 2015. The auction is being conducted in partnership with Charitybuzz. Bidding opened this morning at 9:00 a.m. and will last through December 20th at https://www.charitybuzz.com/papalfiat.
Net proceeds will benefit the 2017 Catholic Charities Appeal (CCA). This appeal provides the support needed to tens of thousands of people through countless organizations, programs and ministries throughout the Archdiocese of Philadelphia.  The beneficiaries are grouped into five key areas: Education; Social Services; Evangelization, Parish and Spiritual Life; Clergy and Local Mission Activities. Those who receive assistance and support from these ministries come from a broad array of faith traditions.
"I'm deeply grateful to FIAT Chrysler for its generosity in giving the Archdiocese of Philadelphia the two FIATS used by Pope Francis during his visit to Philadelphia on September 26-27, 2015," said Archbishop Charles J. Chaput, O.F.M. Cap.  
 "When we learned that these vehicles would be given to us, we wanted to use them in a manner consistent with Pope Francis' call to love and care for the poor.  Our partnership with Charitybuzz provides an excellent opportunity to benefit society's most vulnerable and marginalized members."  
The vehicle being auctioned is one of two FIAT 500Ls made available by FCA US LLC ("FIAT Chrysler") for use in Philadelphia for the Papal visit to the United States. The United States Secret Service (USSS) provided the Vehicle Identification Numbers (VINs) of the vehicles used by the Holy Father in Philadelphia. The Archdiocese of Philadelphia confirmed that the VINs on the vehicles donated by FIAT Chrysler to the Archdiocese match the VINs identified by the USSS.
Previously, the Archdiocese auctioned the other FIAT 500L during the 2016 Philadelphia Auto Show Black Tie Tailgate in January 2016. Proceeds from that auction benefitted the Catholic Charities Appeal and various ministries of the Secretariat for Catholic Human Services.
# # #
Editor's Note: For additional information about the 2017 Catholic Charities Appeal, please visit https://www.catholiccharitiesappeal.org/.
To learn more about the ministries of the Archdiocese of Philadelphia that serve those most in need, please visit www.cssphiladelphia.org.
For further information about Charitybuzz, please visit www.charitybuzz.com.
Contact:
Contact: Kenneth A. Gavin
Chief Communications Officer
215-587-3747 (office)