So it is that in accordance with the Divine Plan a wonderful variety of religious communities has grown up which has made it easier for the church … to be equipped for every good work and ready for the work of the ministry—the building up of the Body of Christ. —
Second Vatican Council, Decree on the Adaptation and Renewal of Religious Life Perfectae Caritatis, no. 1
World Day of Prayer for Consecrated Life
February 2, 2021
(Celebrated in Parishes February 6-7)
In 1997, Pope Saint John Paul II instituted a day of prayer for women and men in consecrated life. This celebration is attached to the Feast of the Presentation of the Lord on February 2nd. This Feast is also known as Candlemas Day; the day on which candles are blessed symbolizing Christ who is the light of the world. So too, those in consecrated life are called to reflect the light of Jesus Christ to all peoples. The celebration of World Day for Consecrated Life is transferred to the following Sunday in order to highlight the gift of consecrated persons for the whole Church.
Prayers of the Faithful
For those consecrated to God by the vows of chastity, poverty and obedience that they may seek to live their baptismal promises more intensely and have the grace to persevere in their commitment to the Lord and serve with open hearts and willing spirits. We pray to the Lord…
For those who have responded to the prompting of the Holy Spirit to be a consecrated person that they may experience the support of the Church as they continue their growth in holiness. We pray to the Lord…
Year of Saint Joseph
Saint Joseph is widely known for being husband to the Virgin Mary and foster father to Jesus, the Son of God. Although it is believed that he died while Jesus was young, he played an extremely important role in taking care of Him and Mary during His early years. Saint Joseph is easy to look up to in times of doubt and fear. He showed his true character in protecting and taking care of Mary when she was pregnant, even before he knew that the child she was pregnant with was the Son of God. This protection continued on as he listened to the angel and fled everything he knew and loved to take Mary to Bethlehem to find safety before she gave birth. Joseph laid down his life for God and for a son who was not biologically his own, showing us all what a true life of trust and discipleship looks like. Here are some of our favorite quotes about Saint Joseph that will strengthen your devotion to him:
"St. Joseph was chosen among all men, to be the protector and guardian of the Virgin Mother of God; the defender and foster-father of the Infant-God, and the only co-operator upon earth, the one confidant of the secret of God in the work of the redemption of mankind." – St. Bernard of Clairvaux
"Though thou hast recourse to many saints as thine intercessors, go specially to St. Joseph, for he has great power with God." – St. Teresa of Avila
"Those who give themselves to prayer should in a special manner have always a devotion to St. Joseph; for I know not how any man can think of the Queen of the angels, during the time that she suffered so much with the Infant Jesus, without giving thanks to St. Joseph for the services he rendered them then." – St. Teresa of Avila
"Saint Joseph was a just man, a tireless worker, the upright guardian of those entrusted to his care. May he always guard, protect and enlighten families." – Pope John Paul II
"Some Saints are privileged to extend to us their patronage with particular efficacy in certain needs, but not in others; but our holy patron St. Joseph has the power to assist us in all cases, in every necessity, in every undertaking." – St. Thomas Aquinas
"We should, indeed, honor St. Joseph, since the Son of God Himself was graciously pleased to honor him by calling him father…If, then, the King of Kings was pleased to raise Joseph to so high a dignity, it is right and obligatory on our part to endeavor to honor him as much as we can." – St. Alphonsus Liguori
"But everyone must know that, after the Mother of God, St. Joseph is, of all the saints, the one dearest to God. He has, therefore, great power with Him and can obtain graces for His devout clients." – St. Alphonsus Liguori
"He was chosen by the eternal Father as the trustworthy guardian and protector of his greatest treasures, namely, his divine Son and Mary, Joseph's wife. He carried out this vocation with complete fidelity until at last God called him, saying: 'Good and faithful servant, enter into the joy of your Lord." – St. Bernardine of Siena
"The Lord has arrayed Joseph, like with a sun, in all which the saints possess together in regard to light and splendor." – St. Gregory of Nazianzus
"He was both the true and chaste spouse of the Blessed Virgin Mary, and the foster-father of the Word Incarnate. For these two reasons, St Joseph shines among all mankind and approaches nearer than any other saint to the holiness of the Mother of God." – Pope Leo XIII. brickhouseinthecity.com/product/ite-ad-joseph-tee/.
Meditations and Sermons on St. Joseph
St. Joseph: Man of Trust
Pope John Paul II, March 19, 1980
Unity of the Family and Respect for Life
Pope John Paul II, March 19, 1981
St. Joseph, a Witness to Fulfillment of the Promise
Pope John Paul II, March 19, 1982
St. Joseph the Worker, Man of Faith and Prayer
Pope John Paul II, March 19, 1983
The Family Is a Community of Love, Life and Prayer
Pope John Paul II, March 19, 1987
The Pope Goes on 'Spiritual Pilgrimage' to the Family
Pope John Paul II, March 19, 1992
St. Joseph Continues in His Role as Protector of the Body of Christ
Pope John Paul II, March 19, 1993
Mary and Joseph Lived Gift of Virginity
Pope John Paul II, August 21, 1996
St. Joseph, Image of God's Fatherly Love
Pope John Paul II, March 21, 1999
Holy Family Teaches Us What Is Essential
Pope John Paul II, March 19, 2000
Love And Serve The Church Like St Joseph
Pope John Paul II, March 19, 2001
Homily on the Solemnity of St. Joseph
Pope John Paul II, March 19, 2001
St. Joseph, Patron of the Universal Church
Pope John Paul II, March 26, 2003
---
Further Discussions on St. Joseph
John XXIII: Pope of Saint Joseph
Blaine Burkey, O.F.M. The American Ecclesiastical Review – July 1963
Finding St. Joseph
Sandra Miesel. History and devotions of St. Joseph
St. Joseph: A Theological Introduction
Michael D. Griffin, O.C.D. This study of St. Joseph covers his place in Sacred Scripture, the writings of theologians and devotion to him as proposed by the Church.
This item 3333 digitally provided courtesy of CatholicCulture.orgFind us on Social Media.Subscribe to Insights…free!News, analysis & spirituality by email, twice-weekly from CatholicCulture.org.
Find us on Social Media.About This Site | Terms and Conditions | Privacy | User Conduct | Advertise | Help/FAQ | Contact UsCopyright © 2021 Trinity Communications. All rights reserved.
Year of Saint Joseph
"Year of Saint Joseph": 8 December 2020 to 8 December 2021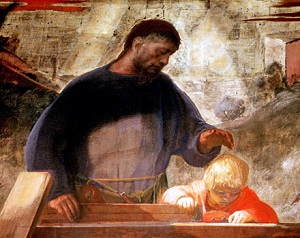 Hail, Guardian of the Redeemer,
Spouse of the Blessed Virgin Mary.
To you God entrusted his only Son;
in you Mary placed her trust;
with you Christ became man.
Blessed Joseph, to us too,
show yourself a father
and guide us in the path of life.
Obtain for us grace, mercy, and courage,
and defend us from every evil. Amen.
With the Apostolic Letter "Patris corde" ("With a Father's Heart"), Pope Francis recalls the 150th anniversary of the declaration of Saint Joseph as Patron of the Universal Church. To mark the occasion, the Holy Father has proclaimed a:
Events for 2020-2021
Sunday, February 7, 2021
World Day of Consecrated Life 11:00 a.m. Parish Mass at the Cathedral Basilica of Sts. Peter and Paul
Archbishop Nelson J. Pérez Celebrant
Saturday, March 13, 2021
Lenten Day of Retreat–

Sister Sheila Galligan, IHM

Cathedral Basilica of Sts. Peter and Paul
Drexel Hall: Conferences/lunch
Sunday, September 19, 2021
Jubilarian Mass
Archbishop Nelson J. Pérez Celebrant
Cathedral Basilica of Sts. Peter and Paul
Saturday, December 11, 2021
Advent Day of Retreat
Cathedral Basilica of Sts. Peter and Paul
Details will follow for each retreat and celebration as we near the dates
---
Contact
Sister Gabrielle Mary Braccio, RSM
Delegate for Consecrated Life
222 North 17th Street
Philadelphia, PA 19103-1299
10th Floor Room 1029
Phone: 215-587-3795
Fax: 215-587-3790
Email: sr.gbraccio@archphila.org
To assist those who feel called to the consecrated life, the Office for Consecrated Life lists those Congregations who serve in the Archdiocese of Philadelphia. Please see listing below.
---