Year of Saint Joseph
8 December 2020 to 8 December 2021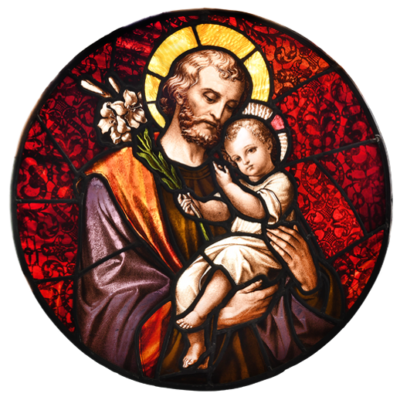 Hail, Guardian of the Redeemer,
Spouse of the Blessed Virgin Mary.
To you God entrusted his only Son;
in you Mary placed her trust;
with you Christ became man.
Blessed Joseph, to us too,
show yourself a father
and guide us in the path of life.
Obtain for us grace, mercy, and courage,
and defend us from every evil. Amen.
Plenary Indulgences for the Year of St. Joseph
All this year until Dec. 8, 2021, the decree from the Apostolic Penitentiary, which is in charge of indulgences, has established that the faithful "following his example can daily strengthen their life of faith in the full fulfillment of God's will." They will have "the opportunity to commit themselves, with prayers and good works, to obtain with the help of St. Joseph, head of the heavenly Family of Nazareth, comfort and relief from the serious human and social tribulations that today afflict the contemporary world."
Back 150 years ago when Pius IX also saw turmoil aplenty, causing him to then declare St. Joseph as Patron of the Universal Church.
What are these indulgences the Apostolic Penitentiary is bestowing in this Year of St. Joseph per the Holy Father's decree to "benefit the perfect achievement of the intended purpose?"
We can gain a plenary indulgence under the usual conditions — sacramental confession, Eucharistic communion and prayer for the intentions of the Holy Father, "with a soul detached from any sin" if we participate in the Year of St. Joseph in several specific ways that the Apostolic Penitentiary has established for us to gain the plenary indulgence.
As long as we're in the state of grace one sacramental confession suffices for gaining several plenary indulgences, but a separate Holy Communion and separate prayer for the intentions of the Holy Father are required for each plenary indulgence. According to the most recent Church guidelines on the subject, "it is sufficient that these sacred rites and prayers be carried out within several days (about 20) before or after the indulgenced act." Yet "it is, however, fitting that Communion be received and the prayer for the intention of the Holy Father be said on the same day the work is performed."
Here are the many opportunities and ways throughout this Year of St. Joseph, from now until Dec. 8, 2021, for us to gain the plenary indulgence over and over. Fulfilling the above conditions along with performing one of the particular works determined by the Penitentiary office can be done daily. One plenary indulgence per day. Remember, the only living person we can apply it to is our self. And we can apply it to any soul in purgatory. Think how many souls you get help — from relatives to unknowns by asking St. Joseph and Mary to pick out the souls for you.
Saint Joseph is widely known for being husband to the Virgin Mary and foster father to Jesus, the Son of God. Although it is believed that he died while Jesus was young, he played an extremely important role in taking care of Him and Mary during His early years. Saint Joseph is easy to look up to in times of doubt and fear. He showed his true character in protecting and taking care of Mary when she was pregnant, even before he knew that the child she was pregnant with was the Son of God. This protection continued on as he listened to the angel and fled everything he knew and loved to take Mary to Bethlehem to find safety before she gave birth. Joseph laid down his life for God and for a son who was not biologically his own, showing us all what a true life of trust and discipleship looks like. Here are some of our favorite quotes about Saint Joseph that will strengthen your devotion to him: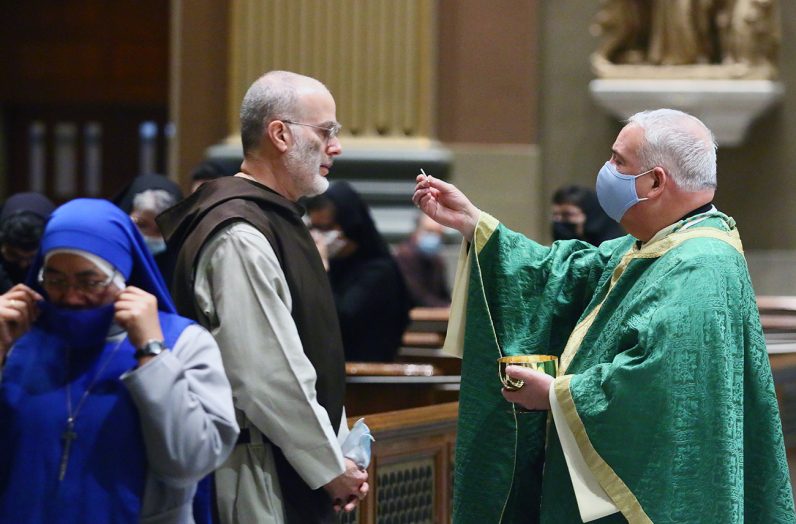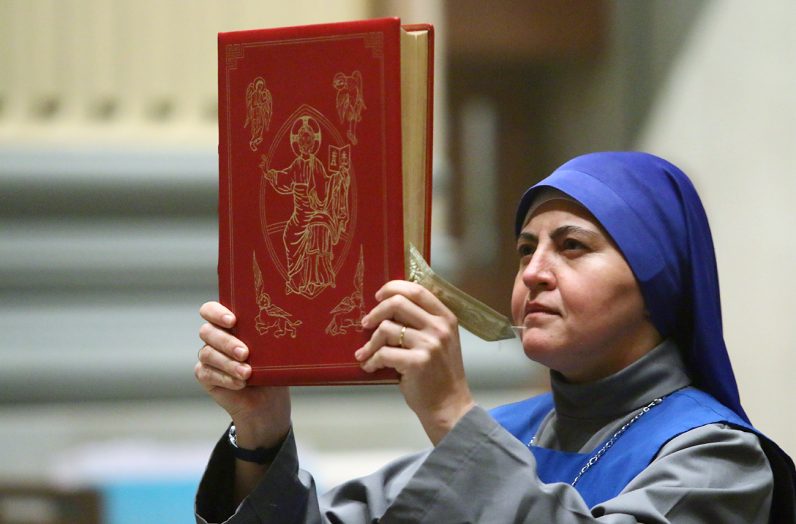 Apostolic religious life is a form of consecrated life within the Church wherein the members profess vows of chastity, poverty, and obedience within a congregation or community approved by the Church. Shared community life is an integral part of this form of consecrated life. In professing vows and living within community, the members individually and as a whole witness to a life of communion with Christ, the Church, and one another.
Apostolic religious congregations develop their own traditions based on the original vision of their founders or foundresses, while continuing to focus their ministries to meet the needs of the Church today. While every religious congregation is unique, together they form a rich source of inspiration for the entire Church.
In his Apostolic Exhortation Vita Consecrata, Pope John Paul II described the apostolic religious communities as "a splendid and varied testimony, reflecting the multiplicity of gifts bestowed by God on founders and foundresses who, in openness to the working of the Holy Spirit, successfully interpreted the signs of the times and responded wisely to new needs. Following in their footsteps, many other people have sought by word and deed to embody the Gospel in their own lives, bringing anew to their own times the living presence of Jesus, the Consecrated One par excellence, the One sent by the Father. In every age consecrated men and women must continue to be images of Christ the Lord, fostering through prayer a profound communion of mind with him (cf. Phil 2:5-11), so that their whole lives may be penetrated by an apostolic spirit and their apostolic work with contemplation."
Vows
The three evangelical counsels of chastity, poverty, and obedience are the vows that are professed by members of religious congregations. Together, they form the basis for living a life of radical consecration to God for the good of the Church. The vow of chastity frees the sister to give herself in love totally to Christ and His Body and is marked by aliveness and a spirit of joy. The vow of poverty frees the sister to dispossess her possessions in order to grow into a deeper spirit of self-giving. In living the vow, the sister depends on the community for her needs as all things are held in common. The vow of obedience frees the sister to do the will of God as expressed by her superiors who seek always what is best for the sister and for the community as a whole.
Pope John Paul II in Vita Consecrata describes the evangelical counsels in light of the Trinity:
"The chastity of celibates and virgins, as a manifestation of dedication to God with an undivided heart (cf. 1 Cor 7:32-34), is a reflection of the infinite love which links the three Divine Persons in the mysterious depths of the life of the Trinity, the love to which the Incarnate Word bears witness even to the point of giving his life, the love 'poured into our hearts through the Holy Spirit' (Rom 5:5), which evokes a response of total love for God and the brethren.

Poverty proclaims that God is man's only real treasure. When poverty is lived according to the example of Christ who, 'though he was rich … became poor' (2 Cor 8:9), it becomes an expression of that total gift of self which the three Divine Persons make to one another. This gift overflows into creation and is fully revealed in the Incarnation of the Word and in his redemptive death.

Obedience, practiced in imitation of Christ, whose food was to do the Father's will (cf. Jn 4:34), shows the liberating beauty of a dependence which is not servile but filial, marked by a deep sense of responsibility and animated by mutual trust, which is a reflection in history of the loving harmony between the three Divine Persons" (par 21).
Charism
Each religious congregation is blessed by a unique gift of the Holy Spirit called a "charism," which is an expression of the way the congregation is called to follow Christ. A religious community's charism is expressed in its way of serving the Church in mission, its particular way of living community life and its distinct "culture." A myriad of charisms forms a fabric of ministries within the Church to meet multitudinous needs.
Spirituality
Within the Catholic Church there is a variety of spiritualities stemming from spiritual leaders of the past. Dominican, Franciscan, and Marian spiritualities are three of the many that are known within the Church. These specific spiritualities refer to systems of values, ideals, and a unified manner of life passed down through the ages from St. Dominic, St. Francis, and St. Theresa. Each spirituality focuses on specific virtues or spiritual priorities, which characterize the way of life of those living within the legacy of the spiritual leader.
The spirituality of a religious congregation makes present in a lived and vibrant way the spiritual values passed on to each generation from the original source. There are numerous spiritual approaches to living the truths of the Catholic Church and the vows of religious life. Devotions, ways of prayer, priorities of mission, and lived expressions in daily life are manifestations of the spirituality embraced by a religious community.
Eremetic Life–Without always professing the three evangelical counsels publicly, hermits "devote their life to the praise of God and salvation of the world through a stricter separation from the world, the silence of solitude and assiduous prayer and penance."
Consecrated Virgins–From apostolic times Christian virgins, called by the Lord to cling only to him with greater freedom of heart, body, and spirit, have decided with the Church's approval to live in the respective states of virginity "for the sake of the Kingdom of heaven."
Secular Institutes–"A secular institute is an institute of consecrated life in which the Christian faithful living in the world strive for the perfection of charity and work for the sanctification of the world especially from within."
Societies of Apostolic Life–Alongside the different forms of consecrated life are "societies of apostolic life whose members without religious vows pursue the particular apostolic purpose of their society, and lead a life as brothers or sisters in common according to a particular manner of life.
Meditations and Sermons on St. Joseph
St. Joseph: Man of Trust
Pope John Paul II, March 19, 1980
Unity of the Family and Respect for Life
Pope John Paul II, March 19, 1981
St. Joseph, a Witness to Fulfillment of the Promise
Pope John Paul II, March 19, 1982
St. Joseph the Worker, Man of Faith and Prayer
Pope John Paul II, March 19, 1983
The Family Is a Community of Love, Life and Prayer
Pope John Paul II, March 19, 1987
The Pope Goes on 'Spiritual Pilgrimage' to the Family
Pope John Paul II, March 19, 1992
St. Joseph Continues in His Role as Protector of the Body of Christ
Pope John Paul II, March 19, 1993
Mary and Joseph Lived Gift of Virginity
Pope John Paul II, August 21, 1996
St. Joseph, Image of God's Fatherly Love
Pope John Paul II, March 21, 1999
Holy Family Teaches Us What Is Essential
Pope John Paul II, March 19, 2000
Love And Serve The Church Like St Joseph
Pope John Paul II, March 19, 2001
Homily on the Solemnity of St. Joseph
Pope John Paul II, March 19, 2001
St. Joseph, Patron of the Universal Church
Pope John Paul II, March 26, 2003
---
Further Discussions on St. Joseph
John XXIII: Pope of Saint Joseph
Blaine Burkey, O.F.M. The American Ecclesiastical Review – July 1963
Finding St. Joseph
Sandra Miesel. History and devotions of St. Joseph
St. Joseph: A Theological Introduction
Michael D. Griffin, O.C.D. This study of St. Joseph covers his place in Sacred Scripture, the writings of theologians and devotion to him as proposed by the Church.
This item 3333 digitally provided courtesy of CatholicCulture.orgFind us on Social Media.Subscribe to Insights…free!News, analysis & spirituality by email, twice-weekly from CatholicCulture.org.
Events for 2021-2022
Sunday, September 19, 2021
Jubilarian Mass
Archbishop Nelson J. Pérez, Celebrant
Cathedral Basilica of Sts. Peter and Paul
Saturday, December 11, 2021
Advent Day of Retreat
Cathedral Basilica of Sts. Peter and Paul/Drexel Hall
Speaker: Rev. Msgr. John M. Savinski, (former Pastor of Our Lady of Perpetual Help Parish, Morton).
Theme: Saint Joseph in Advent
Saturday, March 26, 2022
Lenten Day of Retreat
Cathedral Basilica of Sts. Peter and Paul/Drexel Hall
Speaker: TBA
Saturday, December 10, 2022
Advent Day of Retreat
Cathedral Basilica of Sts. Peter and Paul/Drexel Hall
Speaker: TBA
Details will follow for each retreat and celebration as we near the dates
---
Contact
Sister Gabrielle Mary Braccio, RSM
Delegate for Consecrated Life
222 North 17th Street
Philadelphia, PA 19103-1299
10th Floor Room 1029
Phone: 215-587-3795
Fax: 215-587-3790
Email: sr.gbraccio@archphila.org
To assist those who feel called to the consecrated life, the Office for Consecrated Life lists those Congregations who serve in the Archdiocese of Philadelphia. Please see listing below.
---