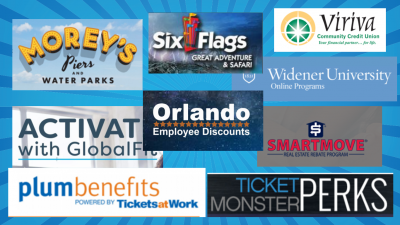 Did you know you can get a discount on health improvement services (gym memberships, fitness equipment, and weight management programs)? Pay less for entertainment (movies, events, theme parks) and wireless service? Would you like to receive a preferred mortgage rate?
PET INSURANCE
Employees of the Archdiocese of Philadelphia may now purchase pet insurance through Nationwide Insurance Company. At Nationwide®, we are pet lovers and so we know how important it is to have as much pet insurance
coverage as possible. That's why we've kept exclusions to a minimum while still keeping our plans affordable. And why we created My Pet Protection, which is simply the greatest pet insurance available today. My Pet Protection is an employee-exclusive suite of pet insurance plans, offering superior protection at an unbeatable price and featuring 90% back on vet bills*, a wellness plan option and more.
*Some exclusions apply
Click Here for More Information
DISCOUNT PROGRAMS
The following discount programs are available (see Contact Information):
Health Improvement—GlobalFit provides discounts for gym memberships, fitness equipment, weight loss programs, and more.
Entertainment—You can get discounted tickets to Morey's Pier in Wildwood, NJ.. Plum Benefits and Ticket Monster Perks offer discounts on movie tickets, theme parks, hotels, plays, and sporting events.
Wireless Service—You can receive discounted rates for AT&T or Verizon wireless services. Show your employee ID badge or your pay stub at the store.
Tuition Savings—The Villanova University School of Business offers 50% tuition savings for an MS in Church Management. The Widener University Collegiate Partnership program offers 10% tuition savings for a Master of Business Administration (MBA), a Masters in Social Work (MSW), or a Registered NurseBachelor of Science in Nursing (RN-BSN).
ANNIE MAC VIP MORTGAGE BENEFIT PROGRAM If you are buying a home or refinancing, this program offers preferred group mortgage rates, a homebuyer privileges discount program, 10% rebated realtor commissions, a one year home warranty for home purchases, discounted rates for Liberty Mutual home or auto insurance, and more.
(Click on the programs below for more information)