Saint Charles Borromeo Seminary Continues 2017-2018 Lecture Series Featuring Nationally Renowned Scholars and Authors
The School of Theological Studies at Saint Charles Borromeo Seminary previously announced the 2017-2018 Saint Charles Borromeo Seminary Lecture Series. 
This series encompasses the Archbishop's Lecture Series, the Theology Lecture Series, the Philosophy Lecture Series, and the Cardinal Foley Lecture Series. It is an opportunity to come to a deeper understanding of the Catholic faith, its authentic content, and its orientation toward the transformation of the world around us. 
All lectures are free, open to the public, and take place at
Saint Charles Borromeo Seminary
Vianney Hall Auditorium
100 East Wynnewood Road
Wynnewood, PA 19096 (Montgomery County)
The next lecture in the series is detailed below.
Tuesday, October 3, 2017
Presenter: Father Donald Senior, C.P.
Topic:  Father Raymond Brown and the Catholic Biblical Renewal
Time: 7:00 p.m. – 9:00 p.m.
About the Lecture

The evening promises to be interesting and informative concerning the growth and development of the study of sacred scripture during the past half century.
Background on Presenter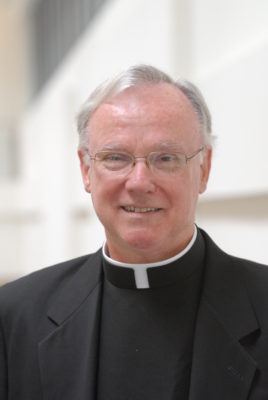 Rev. Donald Senior, C.P., is President Emeritus of Catholic Theological Union in Chicago, the largest Roman Catholic graduate school of ministry in the United States, where he is also a member of the faculty as Professor of New Testament.  Born in Philadelphia, he is a member of the Passionist Congregation and was ordained a priest in 1967.  He received his doctorate in New Testament studies from the University of Louvain in Belgium in 1972, with advanced studies at Hebrew Union College in Cincinnati and Harvard University.
Fr. Senior has published extensively on biblical topics, with numerous books and articles for both scholarly and popular audiences. He is the general editor of the acclaimed Catholic Study Bible and editor in chief of the journal, The Bible Today.   
He was the recipient of the National Catholic Library Association's 1994 Jerome Award for Outstanding Scholarship and was given the 1996 National Catholic Education Association's Bishop Loras Lane Award for outstanding service to Catholic education.  He is past President of the Catholic Biblical Association of America (1997-1998) and of the Association of Theological Schools of the United States and Canada (2007-2009).  He currently serves as the President of the Council of Religious Leaders of Metropolitan Chicago.  In 2001, Pope John Paul II appointed him as a member of the Pontifical Biblical Commission and he was reappointed in 2006 by Pope Benedict XVI.
Additional upcoming programs include:
Monday, October 23, 2017
Presenter: Dr. Timothy George
Topic:  The Reformation After 500 Years: An Ecumenical Remembrance
Time: 7:00 p.m. – 9:00 p.m.
Monday, November 13, 2017
Presenter: Nicanor Austriaco, O.P.
Topic: Evolution and Creation
Time: 7:00 p.m. – 9:00 p.m.
Monday, January 29, 2018
Presenter: Bishop Robert Barron
Topic: On the Church and Social Communications
Time: 7:00 p.m. – 9:00 p.m.
Monday, February 26, 2018
Presenter: Bishop William Michael Mulvey
Topic: Christians and Muslims: Love Creates a Dialogue Between Friends
Time: 7:00 p.m. – 9:00 p.m.
Monday, March 19, 2018
Presenter: Dr. Mary Hirschfeld
Topic: T.B.A.
Time: 7:00 p.m. – 9:00 p.m.
# # #
Editor's Note: For additional information on this lecture series or to RSVP, please contact the School of Theology Studies at sts@scs.edu or visit http://www.scs.edu/lectures.
Contact:
Stephanie Brophy
Associate Director of Communications
215-587-3747 (office)